I started my professional art career on canvas in 1997, but it was in late 2000 that I began developing apparel prints for Govango … the women's "printed" resortwear company that my wife, Lilly & I founded in West Palm Beach, FL.
At one point Govango was in over 250 boutiques, from the Bahamas & Palm Beach … to Maine. It was intense & challenging, but we were very proud of how many customers loved our clothing & prints. As an artist, no matter how different my path has been from others … the satisfaction I find is from making others happy.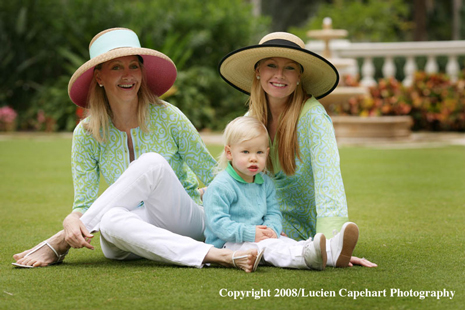 The "Garden Gate" print you see here is from our "Lilly & Van" collection for QVC, inspired by "cast iron" work you see around New Orleans, especially in the Garden District.
In 2008, after a long interview process, we were chosen to have our names licensed to a women's resort/sportswear line ("Lilly & Van") … that was produced for QVC for 2 years (2009-2010.) On March 14, 2009, our premier on QVC sold out of over $2Million of retail in 1.5 hours … half an hour earlier than was scheduled. It was an amazing experience, but it took a very large team to accomplish it, from print & style development, to seasonal color palettes, etc. And with the blessing of having access to some of the top professionals in the business, including the former head of all US QVC operations, my knowledge of textile/apparel prints advanced rapidly. It really felt like going back to school, but in the best way. The most important lessons came from learning what makes a print look great from a distance, which is what was required for the cameras. Most people shop for clothing/prints on a rack … from a few feet away, or less. Our prints had to look good close up, but also from 20 ft. & beyond. That meant a lot of care was taken making sure the elements, spacing & colors worked, and didn't clash, or overpower another elements. To minimize waste in the layout of patterns for "cutting," the QVC prints also had to be "Two Way," which can be a lot more challenging than a "One Way" print used for interior fabric or apparel. All the elements have to fit & work for the eye going both ways.
Much of my early print/textile work originated out of my style of art, which is whimsical interpretations of wildlife, flora, jungle & sea creatures. The goal was to take those elements & try to hide, or incorporate them into a print. That way you end up with a print that has unique elements, but also a level of control & "on trend" focus in the layout that the customer is looking for. In the end there may be only 20-30 historically significant prints from which practically ALL others are derived from, so there had to be a way to improve them by hiding leopards, monkeys, turtles & seahorses in them, and whatever else adds to the fun. That way you can still have the uniqueness the customer desires … without losing a sense of sophistication. I think it's my ability to fuse all these concepts that make my prints desirable, with a proven marketability.
Regarding technology: all of my designs are done on a Mac Pro in Photoshop CS6, using a Wacom 9×12 Pen Tablet. Most of my files, apart from base element files, are done as 13″ x 19″ files, so they can be easily printed on 13″ x 19″ paper for presentation, while still a reasonable size to email. The size also aids in the ability to see & comment on the scale of the elements, repeat, fit, spacing, layers, color ways, etc.
I enjoy working as a team, and have references. If you think I could help your company with my experience, or would like to consider looking at my "Print Catalog" for licensing/purchase opportunities, or have a project of unique textile design concepts you're looking to set your brand apart … please don't hesitate to contact me.